Description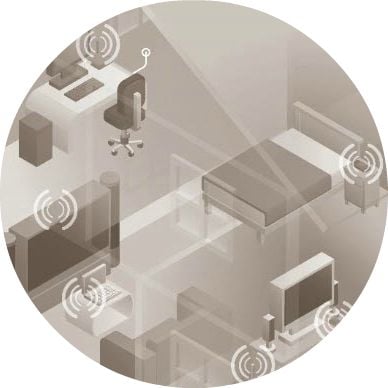 Radiant Room
Clear a single room at home or away
The Radiant Room protects smaller spaces from external EMF sources such as smart meters, cell towers, high-voltage power lines, wireless networks and geopathic stress.
It creates an overlay of benign energy that can:
Neutralize harmful EMFs immediately
Help you experience an increased sense of well-being
Enhance mental and emotional clarity
Restore balance and tranquility to your environment
Help you get more-restful sleep.
Start feeling better right away
The SafeSpace Radiant Room begins to work immediately, and it continues to keep the areas clear of EMFs as long as it remains in place. All you have to do is remove it from its velour carrying case and place it on any flat surface or attach it to a wall. You can move it easily from one location to another, although if you remove it from the room, the EMF dissonance will return.

Frequently Asked Questions
Is Radiant Room's effectiveness altered by chemicals in the room or by other conditions?

No, the energetics in the device cannot be neutralized or altered by chemicals or conditions in the room.

Does the Radiant Room need to be recharged?

No, the energetic encoding of the Radiant Room hologram is permanent and very stable.

Can I use the Radiant Room with other SafeSpace devices?

Radiant Room is a great adjunct to the EMF Adapter and radiates another layer of beneficial fields in room-size space. Many people use Radiant Room in their bedrooms to enhance peaceful rest.

Does it need to be placed in a particular direction?

The Radiant Room hologram radiates a powerful field to clear and protect a single room, up to 400 square feet, from harmful electromagnetic fields as well as other detrimental vibrational energies. You just place the Radiant Room hologram in the area you want to clear; it does not matter which direction it faces.

How do I use Radiant Room?

You can place the Radiant Room device on any flat surface. The device starts to work as soon as you remove it from the velour carrying pouch and put it in position.

How does Radiant Room work?

The Radiant Room hologram radiates a powerful field into a single room, converting toxic EMFs to biologically safe fields. Chaotic fields are transformed and a tangible feeling of peace is generated to enhance any single room.
What Our Customers Have to Say
"…unmistakable
'flavor'
of
light
&
sweetness
…"
When I picked up the Radiant Room and closed my eyes, I was amazed. I felt its field instantly: its unmistakable 'flavor' of light and sweetness reminded me of a lovely meditation hall or sacred place.
"…we've
slept
like
babies…"
My wife and I both started experiencing insomnia and stress as soon as we moved into our new condo. At first we thought we needed a new mattress, but that didn't make a bit of difference. We tried melatonin, milk before bed, you name it. Then we heard a radio program on EMFs, and we started looking out the windows at all the electrical stuff, and all the gadgets around our bed. Your company came up best in our research, and since we added the SafeSpace EMF Adapter in our living room and Radiant Room next to our bed, we've slept like babies, and we wake up refreshed. It's changed our lives.
I have experienced several mysterious symptoms over the past few years which I can now attribute to harmful electromagnetic sensitivity: mental fatigue, hot flashes, visual problems (loss of clarity), nausea and general yuckiness. When I put your products in my home (the EMF Adapter and Radiant Room) I felt like a very dark cloud was lifting off me! I know you probably get this all the time, but it really was like a miracle!
Try the Radiant Room RISK-FREE for 30 days
All SafeSpace products have a 30-day money-back guarantee. If you are not completely happy with the product, return it within 30 days for a full refund.